Diversified Business Solutions & Services
"
Your success is our success; your aspiration is our goal."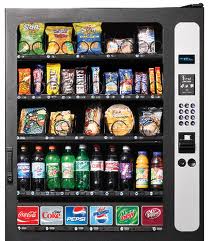 Under the direct supervision of Enid Ortiz,Vice-President, The Lance Management Corp. manages Assorted Delights Refreshment Center - a variety of snack and beverage vending machines and replenishment service. Our vending business caters to business, schools and institutions in Broward and Palm Beach Counties. You and your customers can enjoy a wide range of drinks, snacks and food items with reliable delivery and re-stocking.
To order your Assorted Delights Refreshment Center machines,
e-mail us today for a FREE estimate from The Lance Management Corp. team.
Our FREE Vending Machine Service Includes:
State-of-the Art Vending Machines

Multiple Beverage Brands

Popular Snacks and Energy Foods

Scheduled Re-stocking

Assortment Recommendations
The Lance Management Corp. provides prompt and courteous service for all locations of their Assorted Delights Refreshment Center service. Simply call and speak with Enid to help you select the type of machine needed, number of machines needed and choice of refreshments available. Enid will customize a program and delivery schedule and frequency that works for you and your customers. Fully serviced, strategically placed vending machines offer convenience and instant gratification when people are hungry and thirsty. Satisfy their needs with our reliable service.
Our Areas of Delivery & Service:
The Lance Management Corp. has the ideal solution for your vending machine needs. Contact us today for more information on Assorted Delights Refreshment Center services.